---
Why Choose DSP Audio & Video?
---
Your premier automotive customization facility located in Silver Spring, MD
---
Quality customer service is hard to come by that's why we believe in first class professionalism and customer service. We have over 15 years experience in the car audio industry giving you the peace of mind that your car is being serviced by professionals.
As professionals we believe in being MECP certified. We also back all of are installations with a lifetime warranty* and if you ever sell your vehicle we will remove the installed product for free.
---
Expert Advice
Our knowledge is our biggest asset!
---
Quality Products
We stock some of the best brands in the world!
Pro Installation
Our techs are among the best in the world!
---
Customer Service
We will always be here for you. Before and after the sale!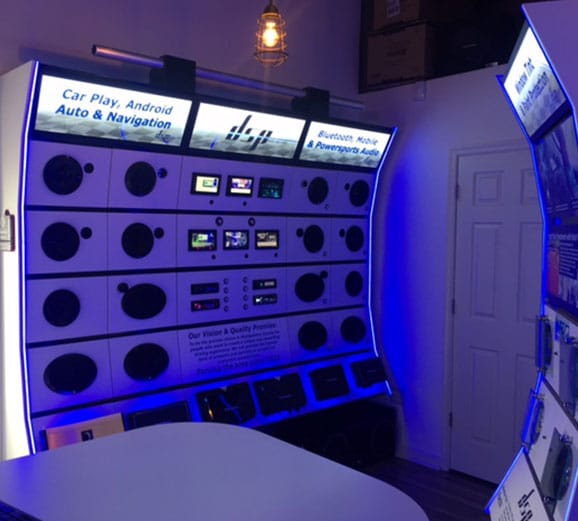 I read all of the positive reviews here and decided to give them a try. It was the right decision. Eddie and his team are very professional and true experts. They walked me through all of the steps of my stereo installation and windows tinting. My car looks beautiful! The prices are very very reasonable. Even the radio itself was cheaper from them than buying online. I will highly recommend DSP.

Great job. Great price and very professional. Make sure to make an appointment if you plan on having a lot of work done. The best car audio place by far I found in the DMV area. Well worth the drive.

After searching for a shop (other than Best Buy/big chains) that would install a full system (head, amp, speakers, sub), I went with DSP based on other reviews. When I went in I received great individual attention, and was really impressed at their flexibility & patience with all of my questions. They were able to help me quickly pick out the right equipment based on price/what I typically listen to/size of car, and the scheduling was a breeze. I made my appointment, dropped the car off, and it was ready the next day ready to go. These guys have an excellent independent business that provides top-notch customer experience. A little hard to find, at first- It's down an alley. Don't let that stop you- let these fellas take care of your car audio needs.

Just got new window tint installed on a Subaru wagon I bought used. Top-Notch Service! Tint looks GREAT.Eddy was super helpful with my selection and even took off a bunch of factory decals with no questions asked.Looking forward to going back for some stereo equipment real soon!

Eddy also installed a stereo for me. Did a great job. Even let mecome back and change the LED color no charge. He is a gem!

Unbelievable guys eddy and mike. Eddy took the time to properly diagnose the issue and even fix mistakes made by the best buy guys when they installed my head unit...don't ever go to best buy. When eddy and mike were done, my car had the rich, full, encompassing sound I've been chasing for years. A++++! Excellent company, best customer service you could ever dream of!

I have had Eddy and his crew install radios in three cars, Electronic remote starters in two cars and fix a motor on a window.I all cases it was a job well done.Good prices and great service.

I made an appointment to get my radio installed by Best Buy who didn't tell me I needed to order a dash kit and then told me to order the dash kit to my house and bring it in and wanted me to come back a week+ later. Unlike Best Buy, they had the kit at DSP, which unfortunately was the kit for the stock design, which mine no longer had and I had not mentioned, so they were able to order the dash kit and have the radio in the next day. Took forever, but that was waiting for FedEx to finally arrive and had nothing to do with DSP, and once it arrived, it was in and done. They're knowledgeable, friendly, and serious about doing a good job. I definitely will come back for further work on my car.

Found DSP after a Google search and reading reviews on YELP.   In short, this company is great!  I had originally purchase a re-conditioned OEM NAV system for my 2008 Camry from an Ebay vendor only to discover that it did not work.  Eddy also pointed out that the manufacture year was on the system that was sent to me was older than the manufacture year of the system in the Ebay listing.He showed me an aftermarket NAV system that looks identical to the OEM equipment which would cost me just a few dollars more than the reconditioned system and he assured me the steering wheel controls would work just the same as the OEM equipment.  Plus, the new system would be newly manufactured with a full manufacturer's warranty and a number of other features that the reconditioned OEM NAV system would not have.This system is unbelievable!  The NAV system looks and performs like it was installed by the factory.  Eddy really knows his stuff.Cannot begin to express how grateful we are to Eddy for his advice, professionalism and fairness. We've already used him again to install an audio system for my wife's Audi TT and window film for the Camry.I highly recommend DSP Audio but you will have to schedule an the installation because they have just 2 bays to perform their car audio magic!

Knowledgeable . Replaced my Boxsters becker / Porsche head unit with an aftermarket NIB Sony I had.  Very accurate and reasonable instal price quote. Job well done.  Recommended.

I am a teacher in the county.  I say that to emphasis my book knowledge, but I have limited intelligence with anything pertaining to a car.  I recently purchased a subaru truck which is well known to have issues with any after market audio accessories, etc.  I called an auto audio shop in Rockville and Columbia, but they were both indifferent and impersonal.  Not to mention they both quoted me expensive prices for labor and parts.  I read the reviews on here, and I called DSP.  Right away Eddy gave me his full attention and offered his experience/expertise with Subaru.  He was very straight forward and honest.  He quoted me a great price.  He researched and told me he could fit me in same day.  I drove to him in 30 minutes.  I waited a couple of hours, if that, and he had my truck ready for me.  He installed an auxiliary wire for my iPad, etc., which even tweaked my factory radio and enhanced the sound!  He even suggested tints for my windows, and because I felt confident in him (and the price was  quite reasonable), I let him tint them.  The price he quoted over the phone was the EXACT same for final charge.  I am VERY satisfied with the tints and the auxiliary wire/sound.  Very professional shop.  In fact, I'm calling Eddy to make an appt for my brother to get his truck done here.  It is located on the alley side of a shop -don't let it deter you.  This is superior service.  My highest recommendation.

I thought about going to Best Buy for my new car speakers but after reading the terrible reviews online, I decided to look elsewhere.  I found this place through Google and the reviews from other people were pretty good.  I gave them a call and setup an appointment.I told Eddy, the owner, the type of music I normally listen to and how I needed something that was very reliable.  He had me test out some speakers until I decided on the one I liked.  While he was installing them, I decided I wanted a new car stereo too.  He was able to install everything the same day.I am so happy that I went to him for my audio needs.  He's very knowledgeable and explained everything I didn't understand.

Hooked up my Subaru truck with great sound. Quick, efficient, and reasonably priced. Can't beat the service.

I have been to these guys many time now. They always do a great job. I will keep coming to them my for audio and security needs. I highly recommend for a tint jobs as well. Definitely worth the wait. Recommend to anyone..A++++

Simply outstanding experience! The guys at DSP are awesome, straight forward and efficient. The prices aren't bad at all either. I'll be back to see you guys again soon!

Tx dsp for the awesome services. My car looks great.

Thank you DSP for an awesome tint job. It looks great!!
AUTHORIZED DEALERS FOR THE FOLLOWING BRANDS